Protecting yourself from financial fraud part 1: ATMs & gas pumps
Published 12:00 am Wednesday, July 28, 2021

Editor's Note: This is the first part of a three-part series with Det. Lt. Michael Shard to educate readers on protecting themselves from financial fraud.
LAPLACE — In December 2017, a Romanian man and woman inserted an ATM skimming device known as a "shimmer" at Louisiana Federal Credit Union in LaPlace, leading to many members reporting unauthorized ATM transactions. The local investigation led to the couple's arrest at the Tanger Outlet Mall in Gonzales and culminated in additional arrests of Romanian nationals for fraudulent schemes in Memphis, Tennesee.
Det. Lt. Michael Shard, certified financial crimes investigator for the St. John Sheriff's Office, said the December 2017 incident was the last major ATM skimming event to occur in the parish. However, with technology evolving every day and the criminal element advancing their techniques, Shard said it is critical for consumers to be vigilant in protecting their sensitive financial information.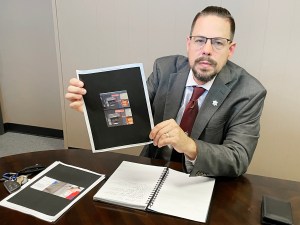 A 2016 global fraud study from ACI worldwide concluded that 30% of consumers experienced credit card fraud within a five-year period. When it comes to gas station pumps and ATMs, credit card fraud is typically linked to skimmers, which are devices that are taped over the mouth of an ATM to steal card information. Scammers may also use shimmers, which are devices as flat as a piece of paper that are inserted into the card terminal, or even remotely steal card information using electromagnetic waves.
Shard offered several tips to raise community awareness and help consumers become proactive in protecting themselves against financial fraud.
Carefully inspect the gas pump or ATM
Shard suggests frequenting the same gas stations and ATMs to become familiarized with the equipment. This allows the consumer to notice changes that could be signs of tampering.
Consumers should also be aware that older gas stations may have less security features in place to prevent financial fraud.
Whether preparing to pump gas or withdraw money from an ATM, individuals are encouraged to try to wiggle the machine to check for a scimmer.
"The only way a scimmer will stick is with double-sided tape. Some are placed over the device, and sometimes these include fake keypads sitting over the top that might be missing braille or required stickers," Shard said. "Feel free to move the external parts; shake it. If it comes off, you didn't break it. It's a scimmer. Call law enforcement, and we will come out, no matter what time of day or night."
Shimmers, which are paper thin and inserted into the machine, can be harder to detect, so it is important to be vigilant in monitoring credit card statements for fraud. However, there are some ways to determine if the ATM or gas pump has been tampered with.
"If your card is hard to insert or doesn't go in as smoothly as it should, that might be a sign that there's something in there," Shard said. "People trying to insert the shimming devices will leave pieces of the plastic missing, and you may see scrapes or other signs of tampering. They may even use a felt tip pin to try to fill in the areas they have chipped."
Gas pumps will typically have stickers with tamper evident qualities. If the machine is tampered with, the word "void" may appear, or the sticker may change color. Sometimes, especially in the South Louisiana heat and rain, the adhesive tape can be damaged without any tampering.
"As a consumer, you could bring it to the attention of the management, or you could choose to do business elsewhere if they are not keeping up with the seals," Shard said.
Remember to hover and cover
"The less you have your card out for people to be able to get key pieces of information, the better," Shard said. "Always try to cover your pin code with your hand or wallet to obscure people from looking."
In the case of the Romanian skimming incident in LaPlace, the scammers had affixed a small mirror and pinhole camera to the LCFU ATM to record individuals typing in their pin numbers. Shard has also seen scammers wear eyeglasses with recording devices to hone in on credit cards while waiting in line at stores.
Scammers are also capable of stealing card information remotely with RFID, short for radio frequency ID.
"Cards can be sensed with electromagnetic waves. Try to get a wallet that has an RFID blocking device. Those can range from $10 to $100," Shard said.
Small actions can provide protection
• At the gas pump, try to use your debit card as a credit card.
"This usually does not require you to use your pin code. Without the pin code, (scammers) will not have the ability to use your card," Shard said.
He added that the chip and pin method of payment is more secure than swiping the magnetic stripe, which can give scammers access to your credit card number. While mag stripes are the last resort, the new "tap to pay" method is generally very secure.
• If you are hesitant to pay at the pump, you can always pay inside with cash.
"One thing I recommend is using gift cards," Shard said. "If you can afford $100 a month on a gift card, it can be a replacement for your credit card."
• Consider using an ATM card that isn't linked to your checking. Shard chooses to move small amounts of money at a time to a separate savings account for ATM withdrawals. The ATM card connected to his savings is purely for cash and can't be used for purchases. If a skimming device steals the card's information, scammers will not be able to access money from his checking account or jeopardize his ability to pay bills.
• Choose walk-up ATMs instead of drive-thru. People going through the drive-thru tend to be more rushed and are less likely to inspect the ATM for signs of tampering before using it.
• Be vigilant in checking your bank account and credit card statements. Fraud can be difficult to detect at the ATM or gas pump, and it's important to catch it before too much damage is done. If it is true fraud, you should be reimbursed by the bank.
If you notice unauthorized purchases on your statement…
Shard said consumers who notice fraud and still have the card in their possession should look for a phone number on the back to report any suspicious transactions. At that time, the card should also be shut down to prevent any further unauthorized purchases.
"Many banks now have the ability to send you a text message when your credit card is used," Shard said. "That's something you can ask for. It's important to talk with your bank and be aware of the fraud protection that is offered."
Additional resources relating to consumer safety are available online at krebsonsecurity.com, cisa.gov, secretservice.gov and ftc.gov.
Detective Lieutenant Michael Shard invites anyone with questions to reach out to him at 985-359-8764 (desk), 504-494-2782 (cell) or by emailing m.shard@stjohnsheriff.org.
More News