Add Pop to a Sweet Snack Time Favorite
Published 8:30 am Sunday, August 13, 2023

(Family Features) Perfect for a picnic, celebrating a birthday or just enjoying time with family and friends, the classic combination of strawberries and cream serves as both a sweet treat and a crowd favorite.
This version adds another tasty treat – popcorn – so you can triple down on deliciousness. With just three ingredients, it's easy to make and ideal for sharing. Simply drizzle popcorn with melted white chocolate chips and top with pulsed freeze-dried strawberries for a kid- and adult-friendly flavor trio.
An added benefit: Popcorn is a whole grain that's 100% unprocessed with no additives, hidden ingredients or GMOs while providing nutrients like zinc, magnesium, B vitamins and fiber. At just 30 calories per cup of air-popped popcorn, it's an energy-providing snack full of complex carbohydrates.
Visit Popcorn.org to find more sweet snacking solutions.
Watch video to see how to make this recipe!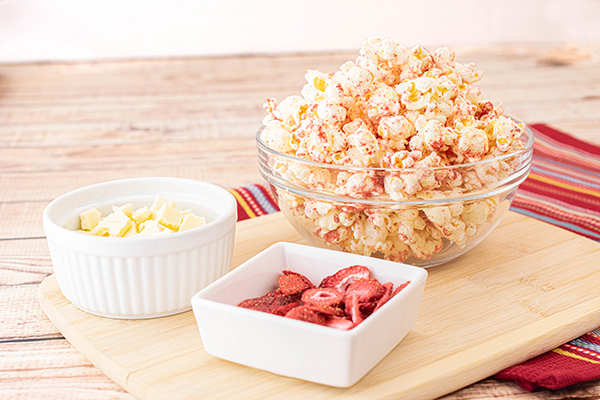 Strawberries and Cream Popcorn
Servings: 4-6
1/4       cup freeze-dried strawberries
6          cups popped popcorn
1          cup white chocolate chips, melted
In small food processor or spice grinder, pulse freeze-dried strawberries until finely ground.
Place popcorn in large bowl. Drizzle melted chocolate over top; toss until well coated. Sprinkle evenly with ground freeze-dried strawberries; toss until well coated.
Scrape onto large parchment paper-lined baking sheet, spreading into even layer.
Let stand at room temperature 30-60 minutes, or until chocolate is set and hardened. To serve, break into pieces.
Tips: To melt chocolate: In heatproof bowl over saucepan of barely simmering water, stir chocolate chips 3-5 minutes, or until smooth.
To melt chocolate in microwave: In microwave-safe bowl or measuring cup, microwave chocolate on medium heat 1-2 minutes, stirring every 30 seconds, or until smooth and melted.

SOURCE:
Popcorn Board
More Lifestyle