Carlton John Laborde
Published 2:21 pm Friday, September 24, 2021
Carlton John Laborde passed away on Monday, September 20, 2021 at the age of 89.  He was a native of Marksville, LA and a resident of LaPlace, LA.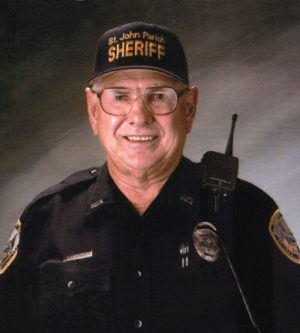 Carlton served in the St. John the Baptist Sheriff's Office for 38 years and was known as "Officer Friendly" and was a longtime member of the Louisiana Sheriff Task Force.  He proudly served in the U.S. Army during the Korean War.  He was an avid outdoorsman and an accidental extra in a John Cena movie.
Beloved husband of the late Effie Carrier Laborde.  Loving father of Carl E. Laborde (Kim), Linda Madere (the late Glen) and Judy Keating (Willie).  Grandfather of Samantha Laborde, Curtis J. Laborde, Michael J. Laborde, Brad M. Madere, Misty M. Wilson (Al), Dustin Keating, Sheena Keating and Mindy Keating.  Great grandfather of Kaysi Wilson, Kyle Wilson, Alexia Riverio (Samuel), Sadie Keating, Storey Keating and Myley Keating.  Son of the late Maydel Dupuy Laborde and Curtis G. Laborde.  Brother of David Laborde (Doris) and Dorothy Jean Kapowski (the late Bruce).  Also survived by numerous nieces and nephews.
Relatives and friends are invited to attend the Visitation and Funeral Mass at Millet-Guidry Funeral Home, 2806 W. Airline Hwy., LaPlace on Tuesday, September 28, 2021. Visitation from 9:00 a.m. to 11:00 a.m. followed by a Funeral Mass at 11:00 a.m. Interment in St. John Memorial Gardens Cemetery, LaPlace, LA.
To share memories or condolences, please visit www.milletguidry.com.
More Obituaries