Allfax rides wave of industry advancement; Excellent, speedy service remains a constant
Published 12:00 am Wednesday, July 28, 2021
Some of the experienced Allfax team members include, from left to right, Paul Rome, Mac McElroy, Jared Mire, Steve Collura and Randy Dufour.
ST. ROSE — For more than 30 years, Allfax Specialties Inc. has been riding the wave of advancing technology to provide customers with everything they need to keep their office running smoothly.
Located at 130 James Drive East in St. Rose, this local company services the 60-mile radius around New Orleans and Baton Rouge. Allfax provides top-of-the-line copiers, scanners, fax machines and printers for offices of all sizes, whether it is for the individual working from home or the largest universities and law firms.
Vice President of Sales Steve Collura said Allfax was founded in 1988. At that time, the advent of fax machines revolutionized business by making it possible for offices to communicate with each other almost instantly.
In the early 2000s, Collura was brought aboard the Allfax team to assist in the transition from a fax company to something greater.
"The machines were going through an evolution, and as email started to pick up and things started to be much more electronic, the fax started waning," Collura said. "At that point we started with the rest of the office equipment which was all scanners, copiers, printers and remanufacturing toner cartridges. We have seen the trends in the business, and we continue to try to be on the forefront of that by always having up-to-date technology to provide for the customers."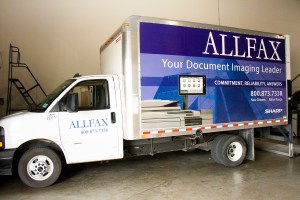 Digital Imaging Consultant Jared Mire has worked with Allfax since 1998, and he said excellent customer service and an experienced team of employees set the company apart from competition.
Issues that arise with the technology can often be fixed within minutes using remote support, which is provided at no additional charge to those with service contracts. When techs go into the field to assist customers, the response time is always speedy. According to Mire, Allfax team members know many of the customers by name and have built strong interpersonal relationships.
"When customers have a service contract with us, we guarantee a four-hour response time. Our average is really closer to two hours. Most of the people who I've talked to who were switching from other companies were shocked because they were used to waiting a day or two for service," Mire said. "I also think our people set us apart. If you look at the longevity of the people who work here, I would say most average at least 15 years."
Collura said there are employees still in the office today who have been on the team since the company's inception.
"That certainly lends itself to us providing a high level of service. Our employees understand the culture of the company and what our goals are," Collura said. "Of course, we are a truly local company, so the owners are here every day. If you call us, you're going to get someone on the phone who can answer you and make a decision on the spot."

The COVID-19 pandemic has brought yet another shift in the industry. With more people working from home than ever before, Mire has noticed a sharp increase in small unit sales over the past 12 months. There have been a lot of discussions centered around what the home office will look like in the future as some professions transition to more remote work.
Printers, scanners and copiers for home use can come from a variety of big box retailers, but Allfax stands out in the customer service that comes after the sale.
"A lot of the stuff comes with little to no instructions, so you really have to know how to make it work, not only the day you set it up but for as long as you have it," Collura said.
Allfax receives automated alerts when a customer's toner is running low, allowing the company to ship replacement toner in a timely fashion.
Allfax also serves very large companies, including law firms, Loyola University and the Port of South Louisiana. Collura said Allfax could support a Fortune 500 company, if needed, and the company has the capability to sub-contract service to satellite offices outside of the region.
Helpful resources including how to videos and drivers for office equipment can be found at www.allfax.com. For more information, call 504-443-0188.
More News