SJSO seek help identifying subjects
Detectives with the St. John Parish Sheriff's Office are seeking the public's help in identifying and locating these subjects, who burglarized a residence on May 27, 2021, in Cambridge subdivision in LaPlace.
Through investigation, detectives obtained surveillance video showing these subjects leaving the area of the burglary.
Anyone who may be able to identify these subjects is encouraged to call the St. John the Baptist Parish Sheriff's Office TIPS line at 985-359-TIPS or the Criminal Investigations Division, Det. Henry Earlycutt, at 504-494-1670. Citizens can also submit tips on the Sheriff's Office website at
http://stjohnsheriff.org/submitatip.php
.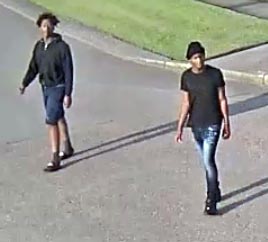 You Might Like
Kirk Letroy McKenzie III of Reserve, 19, was arrested Monday, June 7, 2021 for killing a man at a residence... read more