Julia Mae Vicknair Bourg
Julia Mae Vicknair Bourg passed away on Wednesday, April 7, 2021 at the age of 87.  She was a native and resident of Reserve, LA. Julia belonged to the St. Peter Altar Society and the VFW Ladies Auxiliary.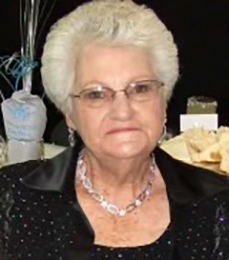 Beloved wife of the late Luke "L.P." Bourg.  Loving mother of Glenn Bourg (Virginia), Debra Calcagno (Tony), Stephanie Peranio (Sammy), Trudy Torres (the late, Robert), Mikleen Louque (Jeff), Shelly St. Amant (Mark), Julie Cupit (Steve) and the late Kenny Bourg (Paula).  Also survived by 19 grandchildren, 25 great grandchildren, 2 great-great grandchildren and 2 great grandchildren and 1 great-great grandchild on the way.  Daughter of the late Eva Landry Vicknair and Trezema Vicknair.  Sister of Leslie Vicknair and the late Mary Duhe, Agnes Remondet, Marion Klibert and Eva "Tuttie" Vicknair.  Also survived by many nieces and nephews.
Relatives and friends are invited to attend the Funeral Service on Friday, April 9, 2021.  Visitation will be held at Millet-Guidry Funeral Home, 2806 W. Airline Hwy, LaPlace from 8:30 a.m. to 11:30 a.m. with the Funeral Mass to follow at 12:00 p.m. at  St. Peter Catholic Church, 1550 Hwy 44, Reserve.  Interment in St. Peter Cemetery, Reserve.
In lieu of flowers, please consider a donation in her memory to Perry's Posse, P. O. Box 2053, Garyville, LA 70051.
To share memories or condolences, please visit www.milletguidry.com
You Might Like
Renee Bourg Catoire passed away on Tuesday, April 6, 2021, at age 85. She was born on November 2, 1935... read more