Beverly D. Harris
Beverly D. Harris, 78, a native of Edgard, LA and life-long resident of St. John the Baptist Parish, passed away peacefully in Atlanta, GA on March 31, 2021, surrounded by her husband of 53 years, Dr. Henry Yale Harris, Sr. and her loving family. Beverly was born February 21, 1943, the youngest child of the late Fernand Dinvaut Jr. and Louella Dinvaut of Edgard, LA.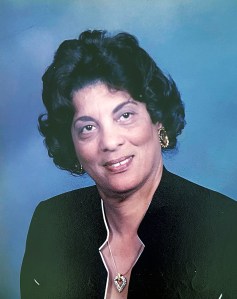 Raised in a Christian home, her parents instilled education into her life with the love of God. Beverly, a beloved educator and community leader lived an exemplary life of service with a legacy dedicated to her family, the church and the educational institutions where she taught and served.
Beverly's legacy of education began in St. John Parish public schools where she completed high school. She went on to graduate from Dillard University with a Bachelor of Arts degree in
Health, Science & Physical Education. She subsequently earned a Master's Degree in Guidance/Counseling from Southeastern Louisiana University and an Associate degree in Substance Abuse from Southern University of New Orleans.
Beverly began her professional teaching career in 1966 at Fifth Ward High School in Reserve, LA. In 1969, during school desegregation, Beverly was one of 13 black teachers transferred to teach at Leon Godchaux High School. She taught at Reserve Junior High from 1972 to 1975. In 1976, she returned to Leon Godchaux High School as a school counselor and later moved to East St. John High School, where she worked for 20 years in guidance/counseling.
Her educational legacy continued at St. John Parish School Board central office where she worked as the School-to-Career Coordinator for 13 years until retiring June 30, 2009, having retired with 43 years of dedicated service in education. Beverly touched the lives of thousands of students, where she treated each child as her own. She loved children and believed in helping them to find their purpose.
With her steadfast Christian foundation, Beverly's legacy of service continued as she was a dedicated and active participant in the life of Our Lady of Grace Catholic Church including serving as a Eucharist Minister, Altar Coordinator and Lecturer. She held membership and served at Ascension of Our Lord Catholic Church. In addition, she leaves a legacy of service to her community. Over the span of her life, her community service included serving on DuPont's Community Advisory Board, Rotary Club of LaPlace, St. John 4-H Foundation Board, St. John Child Advocacy Services (CASS) and former member of St. John United Way.
For anyone who knew Beverly, she leaves us with fond memories of wonderful stories, a love for God and her family. Because she loved children with all of her heart, from their union came two daughters Kashifa and Supriya, for whom she loved and adored, having God to bless her with the children she always wanted. She also dearly loved her stepson the late, Henry Harris, Jr.
Beverly was a sweet woman with a twinkle in her eye that was most often joined by chuckles that made the listener's heart melt. She never complained about anything but had an opinion about most everything. Beverly will best be remembered as a woman with a warm heart whose life's mission was to spread love and kindness to anyone she met. She loved her students and her students loved her. She was a praying woman who was faithful to her God, her husband, her children and grandchildren, her church and community and most importantly to her family.
She leaves to cherish her memories her devoted husband, Dr. Henry Yale Harris, Sr., their children Kashifa Harris Lassic (Derrick) and Supriya Harris; grandchildren, Paul Obiora, Kingston Jackson, Kiyan Lassic, Lisa Harris Gunter (Shaun), Andres Harris (Sam), Camilo Harris, Maira Harris; great grandchildren, Penelope Boesen, Lexa Harris; Godchildren, Bridget Dinvaut Sanders, Gidget Rousseve Downing and Nivea Albert. Two sisters Rosemary Sorapuru and Jacqueline Rousseve, sister-in-law, Philomena Dinvaut and daughter-in-law Alicia Harris, a host of nieces, nephews, relatives, friends and students.
She was preceded in death by her parents Fernand Dinvaut, Jr. and Louella Dinvaut, step-son Henry Harris, Jr., three brothers, Rudolph Dinvaut, Ferdinand Dinvaut III, Mullin Dinvaut, sister-in-law Corine Dinvaut, and brothers-in-law Leroy Sorapuru and Maurice Rousseve, Sr.
Prayers are appreciated for the family during this time of bereavement. A mass of Christian burial will be held on Saturday, April 10, 2021 at Ascension of Our Lord Catholic Church, 1900 Greenwood Dr, Laplace, LA, 70068, Father Walter Austin, Officiant. Visitation will begin at 9:00 am. Mass will begin at 11:00 am. Entombment at St. Peter's Catholic Church Cemetery, 1550 LA – 44, Reserve, LA, 70084. Final care has been entrusted to Bardell Mortuary, 3856 LA- 44 Mt. Airy, LA 70076. Due to COVID-19 restrictions, mask and social distancing will be strictly enforced.
"For I am now ready to be offered, and the time of my departure is at hand. I have fought the good fight, I have finished my course, I have kept the faith."
2 Timothy 4:6-7
You Might Like
Nolan Blaise Landeche, Jr. passed away peacefully at his home surrounded by his wife and family on Tuesday, March 30,... read more