Donald "Donny" Joseph Boudreaux
Donald "Donny" Joseph Boudreaux
1931-2021
Donald Joseph Boudreaux, a lifelong resident of LaPlace, Louisiana, passed away peacefully at his home on March 27, 2021 at the age of 89.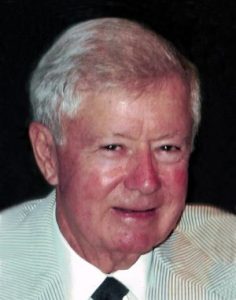 Donny received a bachelor of science in education from Southwestern Louisiana University. He then continued his education at Louisiana State University, receiving a bachelor of science of chemical engineering. Donny established Southern Chem Industries in 1971, which he owned and operated until his retirement in 2003.
Donny was a civic-minded citizen. His many accomplishments include: Charter President of the LaPlace Jaycees where he worked to establish the parish library, member of the Knights of Columbus Council, Lifetime member of LaPlace Lions Club, King Du Monde III, and a school board member of St. John the Baptist Parish, St. Joan of Arc and St. Charles Catholic High Schools. Donny was a devout Catholic and recipient of the Order of St. Louis Medallion from the Archdiocese of New Orleans for his service to St. Joan of Arc Catholic Church.
Donny was preceded in death by his parents, Joel and Josepha Boudreaux. He is survived by his wife of 64 years, Betty Jean Ordoyne Boudreaux and his brother, Larry Boudreaux. He was a loving father to Kay Boudreaux Dunn (Rex), Donald Boudreaux, Jr., Anne Boudreaux Kahn (Morris) and Jane Boudreaux O'Flynn (Jimmy). He was the grandfather to Ellen Dunn, Andrew Dunn, Ben East, Will East, Alex East, Bentley Boudreaux, and Sylvie Kahn.
A private service will be held Wednesday, March 31. In lieu of flowers, please make donations to Alzheimer's Services of the Capital Area, 3772 North Blvd., Baton Rouge, LA 70806 or online at www.alzbr.org or by phone at (225)334-7494.
Arrangements by Millet-Guidry Funeral Home.  To share memories or condolences, please visit www.milletguidry.com
You Might Like
Jules J. Edler, Jr. passed away on Wednesday, March 24, 2021 at the age of 66. He was a native... read more