Rotary Club of LaPlace serves to change lives
Published 12:00 am Wednesday, July 7, 2021

LAPLACE — The Rotary Club of LaPlace recently held its banquet, marking the start of its new year. The theme of the new year is Serve to Change Lives.  In addition to bringing in the new, the event also celebrates the year that just ended.
  The 2020-2021 year was one unlike any other in recent memory. With the restrictions from COVID-19 and social changes through out the country, Rotary continued to stand strong as a service organization.   The club went from meeting in person weekly to meeting via conference call and then to a combination of conference call and small gatherings in person. The year also brought the loss of one of its most active members, Beverly Harris, but the club maintained its mantra "Service above Self" through it all and gave more scholarships than in the past.
New scholarships included one in Beverly Harris' name, an  education scholarship  sponsored by Lucien Gauff III in honor of his mother, and two for East St. John students sponsored by  Gordon Taylor and Demetria Carter, respectively.
  Other services throughout the year included Clean Sweep, helping to pick up trash in the parish,  volunteering at  Second Harvest Food Bank,   giving blood, and providing baskets  and other items for various organizations and charities to name a few. 
   As with any banquet, awards were presented to those that excelled. Dominic Joseph (pictured left with Lucien Gauff) is a recent SCC graduate who will be studying pre-med at LSU and the recipient of the Stephanie "Nikki" Wilking award given to a young person that exemplifies the qualities of service to the community.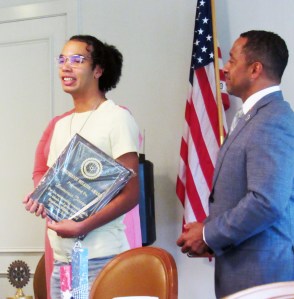 Below the recipient of the Delton Arceneaux Award was Eliza Eugene for the continuous good works she coordinates and executes with the help of sponsors in the community. Examples of these are an annual backpack giveaway and Thanksgiving Turkey dinner giveaway. Eugene (holding the plaque) is pictured, from left, with Robbie Tomeny, Gordon Taylor, Demetria Carter, Lucien Gauff and Robert Tamplain.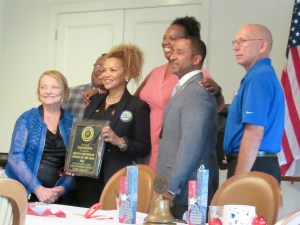 Other awards presented included Rookie of the Year presented to one of its newer members and Rotarian of the Year.  Each is given to a member that goes above and beyond. The Rookie award was presented to Denise Burrell and Rotarian of the Year to Gordon Taylor.
  As  part of the new year festivities, the board for  the 2021-2022 was installed by Rotary District 6840 Governor-Elect  Regina Wedig.
 Pictured above are from the left, Gordon Taylor, board member; Artis Williams, board member; Felicia Feist, board member; Ronny Michel, secretary; Demetria Carter, treasurer; Lucien Gauff, president; Robert Tamplain, sargent at arms; and Denise Burrell, vice president. 
More News